In recent years, small business video marketing has been growing steadily in popularity.
Users watch more than a billion hours of video each day on YouTube alone, and more than half of consumers who watch video content want more.
Several studies show that video marketing leads to significant revenue growth. For small businesses, video production helps grow revenue 49% faster than without video.
Including video content in your digital marketing strategy can help you build brand awareness and develop an online presence.
From YouTube videos and Facebook Live streaming to Instagram Reels and TikTok social videos, there is no shortage of ways you can use videos to connect with your target audience.
So, if you've been wondering how to get started with small business video marketing, you're in the right place.
What Is SMB Video Marketing?
SMB Video marketing uses video content to promote your brand, increase sales, and educate customers.
The videos you create to promote your business can include things like brand history, goals, services overview, and reviews, as well as behind-the-scenes and educational videos.
Like other marketing strategies, the primary purpose of video is to build a relationship with your audience, establish trust, and grow brand awareness. However, video marketing has several key benefits for small businesses that make this strategy stand out above the rest.
Why SMBs Should Use Video Marketing
Whether you're trying to build a social media presence or establish yourself as an expert in your industry, video marketing offers several benefits for small businesses.
Here are five ways you can use video marketing to grow your business.
1. Improve Lead Generation
Creating educational and informative videos can generate interest in your services and products. In fact, 84% of people say they've been convinced to buy a product or service by watching a brand's video.
Pair that with annotations and the ability to point readers to an email capture form that syncs with your email list or CRM, and you can turn every piece of video content into a powerful lead generator for your business.
Video marketers get 66% more qualified leads per year, and 87% of video marketers say video has increased traffic to their website. Lastly, 83% of video marketers say video helps them with lead generation.
2. Increase Brand Awareness on Growing Platforms
Producing video content and using it in your social media strategy helps you establish brand awareness on growing video-centric platforms such as YouTube and TikTok.
Consider the sudden rise in popularity that TikTok has seen with its focus on short and entertaining clips. TikTok has become so popular that Facebook (who owns Instagram) quickly followed suit and created Instagram Reels — its version of short and entertaining clips that see more engagement than regular feed posts.
Not to mention YouTube channels — the most popular video sharing platform with over two billion users and one billion hours watched daily.
3. Establish Thought Leadership
Video is the perfect medium for creating content that educates customers and positions you as an industry expert.
Many people are visual learners, which makes video content one of the best options for educational content. In fact, viewers retain 95% of a message when they watch it in a video.
That includes content such as:
Webinars that you can use to present and pitch your services and products
How-to tutorials that show your target audience how to identify and solve a problem they're struggling with
Product demos that walk them through how to use your product or product features
Branded small business video marketing videos and interviews where you can share your expertise
4. Boost Website Engagement
Another reason you should consider using video in your marketing strategy is that video boosts website engagement.
You'll encourage visitors to stay on the website longer and finish watching the video by adding videos to your website.
If you also incorporate a call to action that invites them to join the discussion or share their thoughts, you'll encourage them to leave a comment as well as to come back and check out the replies.
Increased levels of engagement with your website can, in turn, boost your SEO. But, that's not the only way using video can help your SEO efforts. Remember that YouTube is the second largest search engine that Google owns.
When you use keywords strategically in your video title and description, your videos can start to show up in search results. That leads to free, organic traffic of visitors already searching for what you have to offer.
In other words, video can help drive traffic to your website and reduce or eliminate the need to invest in paid advertising.
How To Develop a Video Marketing Strategy for SMBs
Now that we've covered the unique benefits of smb video marketing let's talk about developing your video marketing strategy.
This step-by-step guide walks you through the process of planning, creating, and launching your videos.
Step 1: Ensure You Have the Necessary Equipment
Let's talk about what you need to create the perfect video marketing campaign for your small business for your business. You might be thinking that creating video requires expensive and fancy equipment, but that's not always necessary.
To get started, you'll need the following:
A studio or a room where you can record — whether it's your office or another quiet room in your house where you usually work from.
Lighting gear — while natural lighting is always best, it's also a good video idea to invest in professional lighting gear. It doesn't have to be expensive — in fact, you can get a decent lighting kit with everything you need for around $100 on Amazon.
Camera for recording — similarly to a lighting kit, you don't need a state-of-the-art camera to record your videos. Your DSLR camera or mobile device is a great way to get started with videos.
Quality microphone — lastly, you're going to need a quality microphone so your audience can hear what you're talking about. It is probably the most crucial piece of equipment since experts say that the quality of your audio is more important than the quality of your video picture. As such, you'll want to invest the majority of your budget in a high-quality microphone.
Before you hit the record button, it's a good idea to research your topic and prepare a basic script or outline that you can follow to ensure that you stay on topic.
The script doesn't have to be complex or exact word-for-word of what you're going to say. Outlining bullet points allows you to stay on topic without sounding too rehearsed.
When creating scripts, make sure you keep your primary goal in mind. In other words, what action do you want viewers to take after they watch your video? Use that to craft an engaging call-to-action.
Step 3: Prepare the Studio
After you finalize your video script or outline, it's time to set up your recording area. You don't need a professional recording studio to create engaging video content. However, you can use a few tips and tricks to improve the quality of your video and eliminate distractions.
Here are a few steps to take before recording:
If your room doesn't have carpets on the floor, consider laying down a few blankets. That will help reduce the echo and make your audio clearer.
Similarly, pictures on the walls, curtains, or acoustic foam sheets will help reduce the sharp echo in your audio.
Eliminate distractions by turning on Do Not Disturb mode on your phone or tablet. If you're recording your computer screen, close down any programs that might pop up with a notification while you're recording.
After recording the video, you'll need to edit it. There is no shortage of editing software out there, suitable for a variety of budgets. If you're a PC user, Camtasiaand Filmora are two popular choices. An online video editor like Clipchamp is also a great option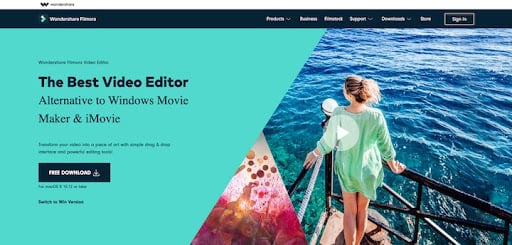 For Mac users, you can go simple with iMovie or opt for Final Cut Pro if you need more features.
Lastly, if you already use Adobe software, don't forget that you can use Adobe Premiere Pro to edit your videos.
Step 5: Upload the Video to a Hosting Platform
Once you finish editing, you will need to upload it to a video hosting platform to reach new audiences and embed the video on your website.
If you want your videos to appear in Google search results or capitalize on the popularity of the second largest search engine, YouTube is the go-to choice.
However, if you want more control over where your videos are shared and who can view them, you might want to consider uploading them to video streaming websites like Wistia or Vimeo.
These platforms offer granular privacy and embedding controls to ensure your videos aren't used without your permission. That is a good choice for video content marketing, such as webinars, courses, masterclasses, and workshops.
If you want to use your videos on social media platforms, you'll need to upload them to the respective websites. However, be sure to save a copy locally. That way, you never have to worry about losing all your content if the social media platform shuts down.
Step 6: Optimize the Video for Organic Search
Videos can also help you improve your organic search results as long as you follow SEO best practices when formatting your videos and uploading them.
Here are some video marketing SEO tips to keep in mind:
Making sure your video is correctly sized and formatted
Using keywords in your title, tags, and description
Paying attention to your thumbnail image as it's the first thing your audience sees
Remembering to include captions or transcripts (preferably both) to make sure your videos are accessible to everyone
Types of Video Marketing for SMBs
Now that you know how to create a high-quality marketing video for your business let's go over the different videos you can make.
1. Case Studies and Customer Testimonials
Case studies and testimonials are all about showing your audience that you deliver results for your clients and potential customers. They build trust and showcase the transformation that your client or customers go through when working with you.
You can use those videos to convert visitors and followers into customers.
Consider reaching out to past clients and customers and ask them if they would be willing to record testimonial videos in exchange for a coupon or a discount code. Another way to record these videos is to make them a part of your client's offboarding process.
Product demos show your product in action. They demonstrate how your products, services, or offers work. Just like case studies, demos can help convert visitors into buyers.
While you can record demos by yourself, it's also a good idea to reach out to past customers and ask them if they would be willing to record a brief video of them using the product. Similarly to testimonials, you can include an incentive to encourage them.
3. Behind-the-Scenes Videos
Behind-the-scenes content makes your brand more relatable, and they're a great option for sharing on social media. When you post these, followers feel like they're getting an exclusive look into what goes into making their favorite product.
But, with these types of videos, you're not limited to the product creation or distribution process alone.
You can also give them a behind-the-scenes look into how you get ready for your day or how you prepare before you begin working with a client. You can use those videos to grow your followers, build trust, and attract new customers.
4. Educational Tutorials and How-To Videos
These explainer videos work well on a platform like YouTube since they tend to be longer. They can help you generate content for your blog and drive traffic to your website.
You can use them to educate your visitors about the benefits of your products or services and show them how to do something.
The reason why these videos work well is that once your audience sees what it takes to offer your products or services, they'll be more inclined to hire you than try to tackle it themselves.
You can use these videos to build brand awareness, demonstrate your knowledge, grow your following, and generate leads for your business.
For a more spontaneous approach to video marketing, try live videos. Platforms like Facebook and Instagram make it easy to start and share live videos even if all you have is your phone.
The beauty of live video is that you can engage directly with your audience, building up that know, like, and trust factor even faster.
Real-time interaction can spark ideas for future content and give you even more insight into how your audience thinks and what they are looking for.
6. Webinars, Workshops, and Masterclasses
Webinars, workshops, and masterclasses are an excellent way to introduce your offer to a broad audience and then invite them to work with you or buy your product. If your marketing strategy relies on thought leadership, this video format is an excellent way to reinforce your authority and generate leads.
Typically, webinars, workshops, and masterclasses are provided for free since they're meant to upsell a paid offer of some kind. They also happen in real-time; however, you can host a live webinar or workshop once for free and then sell the recording later.
Choosing the right type of video for your business depends on your audience and your business goals. You may have to experiment in the beginning and track video metrics to discover which videos resonate the most with viewers.
Over time, you'll find your flow and understand what videos work best with your target audience and strategic business goals.
How To Promote Your Marketing Videos
Now that the hard part of recording and editing a video is over, it's time to promote your videos. After all, if you don't advertise them, how can you expect them to bring you results?
The first step to promoting your videos is to find a place to host them. As mentioned earlier, a dedicated video hosting platform like YouTube, Vimeo, or Wistia is a great place to start because they let you share those videos on your website easily.
Using Social Media Channels
To grow brand awareness, you'll also want to upload your videos to social media platforms.
But before you hurry and upload your video on every social platform under the sun, you need to understand where your audience is.
Ensure You Choose the Appropriate Channel
In other words, you need to ensure you're uploading videos to the platform your ideal audience is most likely to spend time and engage with your content.
For example, if you target a corporate audience who prefers LinkedIn, it makes little sense to upload your video to Facebook.
But, if you're targeting a younger audience, it makes sense to upload your videos to platforms like TikTok, Instagram Reels, and YouTube.
Use market research to figure out which platforms your audience prefers. Additionally, you can look at the platforms that your competitors use and target those too.
Using Your Website Content
Once you've uploaded your video to those platforms, it's time to promote it. Here are a few ideas to get you started:
Embed your video in your landing pages — add the video as a standalone or an accompanying piece of content to your landing pages, product videos pages, or anywhere else where it makes sense. Don't forget to include captions or a transcript to comply with the accessibility guidelines.
Add it to your blog posts — if you're talking about a related topic on your blog, include the video to provide even more context and content for your blog post.
Send it in your newsletter — let your existing subscribers know that you've published a new video and invite them to watch it and leave a comment. If possible, use the email to send them directly to your website. You can also send them directly to a social media post if you're working on growing your social media presence.
Use paid video advertising for small businesses — if you have a larger marketing budget, consider using paid small business video ads to drive views and clicks. It can help you get the initial engagement you need to have social media platforms organically show your video to more users.
Make Your Video Marketing Work for You
You can repurpose all the work you put into your video into other marketing assets so you get more out of your time.
For example, you can:
Use the transcript as a standalone blog post
Extract the audio and turn it into a podcast episode
Create multiple short clips to share on social media platforms as Reels, TikTok videos, and YouTube Shorts
Pull 15-second clips to use as Instagram or Facebook Stories
Create quotes to share on social media
Design multiple Pinterest graphics to drive traffic to your video
Create a playlist of your videos on a particular topic and let your audience binge-watch them in one convenient place
How To Measure The Success of Your Video Marketing Campaigns
So far, you've done the hard work of creating a video and coming up with an effective marketing plan for your videos. Now that your videos are out there, it's time to measure the results and analyze them.
The good news is that most platforms offer video metrics reports and insights that can help you understand how your videos are performing. However, you need to know what to track and keep an eye on.
Here are the most common performance indicators to help you assess the data of your video creation:
Play count is the number of times your video has been viewed. It is the easiest and the most basic metric to keep track of. However, it's also a metric that doesn't tell you much about your video's effectiveness.
For the most part, it's a vanity metric that can give you a clue into whether that particular topic is popular. When doing research, you should always keep it in mind, but remember it isn't as important as people think.
Watch time measures how much of your video people watch. Are they watching the video in its entirety, or are they dropping it off before getting to the meat of the content?
It's an excellent metric to track engagement and help you improve your video content and editing over time.
If you find that many people are dropping off relatively quickly, you might need to adjust the way you present your topic. That can mean working on your hook, shortening the length of your videos, or diving straight to the point.
Video click-through rate refers to the percentage of viewers who click on your video's call to action and visit a specific page on your website. If you find that your click-through rate is low, you might want to make your calls to action more clear and engaging.
You can also include them twice in the video — once at the beginning and the end. That'll help maximize the number of people who see and hear your call to action.
Conversion rate refers to the percentage of video viewers who become potential clients or customers after watching a particular piece of video content.
The more you optimize your video and improve the calls to action and metrics above, the higher your conversion rate.
Like the conversion rate, the lead generation rate refers to the percentage of viewers who become leads for your business after watching and engaging with your video.
Some video hosting platforms, like Wistia, let you view heat map data. Video heat maps are color-coded guides that give you a visual representation of audience engagement.
You can use heat maps to see where viewers are skipping sections or going back and rewatching parts of your video.
They're helpful because they can help you understand how each viewer interacts with your video.